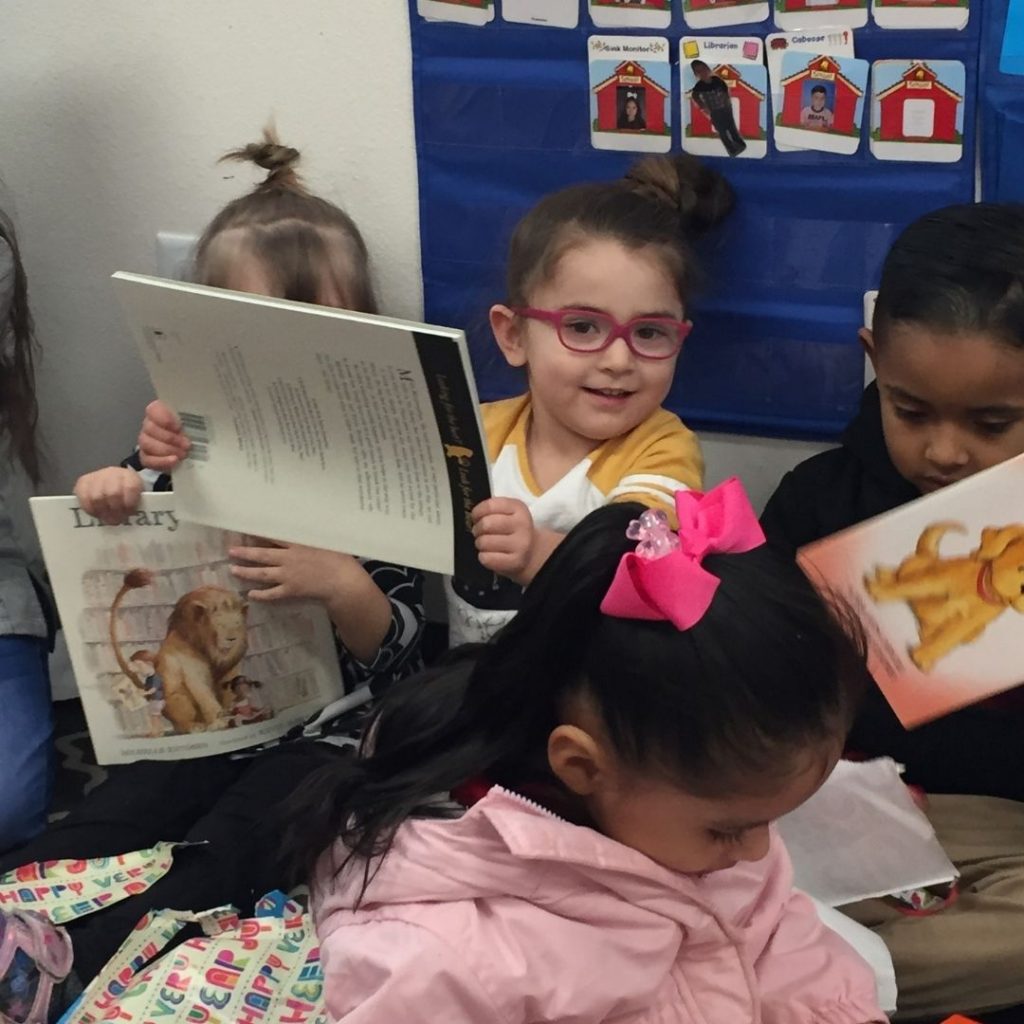 Are you building your home library?
Wild Plum Center operates on the belief that it is of the utmost importance to expose your children to the wonderful world of books and reading. Throughout the school year, we will be promoting family literacy. Each classroom will host Family Reading Sessions along with a family activity. Each Wild Plum Center family will then be given a book for your home libraries.
Our goal is that you will establish consistent reading habits with your children, set aside time to visit the public library and read daily with your children. How do you get started? Designate a shelf for your children's books and refer to it as his/her library. Visit it frequently and encourage your child to pick their favorite story for you to read. Let them tell the story back to you. Ask them specific questions about the story. Then, pick up another book. The earlier you begin to read to your child, the better. When reading patterns are established at an early age, children will continue to read throughout their adult life.
It's never too late to start!
Ninety percent of Wild Plum Center families are enrolled in the Mayor's Book Club. This program was established in 2007 to not only help 3 and 4 year-olds develop a love for reading and learning at an early age, but to create a level playing field for all of our youngest learners. It has been found that the "achievement gap" in Longmont, or the disparity in key academic scores, falls along socio-economic and ethnic lines. This program is open to all 3-4 year olds in Longmont, but in an effort to close the achievement gap before kindergarten, a special effort is made to recruit families who are lower income, as well as newer immigrants.
The Mayor's Book Club is presented in both English and Spanish. Studies tell us that when children are literate in their primary language, then literacy in a second language is far easier to achieve. Bilingual family reading programs can increase the literacy of ALL family members. We also know that having books in the home is as important to academic success as the education level of a child's parent. As we see our community's foreign-born population growing, it only makes sense to ensure that this program is accessible to all families in Longmont.
Once a child joins the Mayor's Book Club, he or she will receive a free book each month in the mail until they turn five. The Mayor and a Spanish speaking community leader read the books we send on Longmont's local access channel, Channel 8. Tune in every Monday, Wednesday, Friday, Saturday and Sunday at 8 am, and Tuesdays and Thursdays at 11 am. Children in the Book Club all receive an official Mayor's Book Club t-shirt!